---
Tips and Strategies for Black Friday 2022

As we are getting closer to Black Friday, the majority of eCommerce businesses are preparing for a new record-breaking year. If you are an eCommerce manager or a first-timer in this event and you are looking for the best advice and tips for you to increase your sales, then you are in the right place.
Each eCommerce business sets up its own sales calendar and how long a Black Friday lasts depends on each company. A lot of well-known brands are launching Black Friday deals in early November to attract early holiday shoppers and anticipate uncertain delivery times.
In today's blog, we will provide you with 7 important eCommerce ideas, so you know how to get started.


1. Increase your website performance

As we all know, the most critical element is website performance. For a special event, such as Black Friday, users expect stores to load fast, so they can easily find the products and the deals that they are looking for. The optimal loading time for an eCommerce website is 0 to 4 seconds, as it has a 12% to 30% conversion rate.
Moreover, users begin to abandon their purchases, while the transactions decrease by 1% every second.

Furthermore, many essential names such as Macy's and H&M have been victims of website outages due to big traffic spikes. Optimising your website will prevent this from happening.
In this regard, Kooomo is offering you 100% uptime, even for Black Friday week! For more information on Black Friday, download our Infographic here.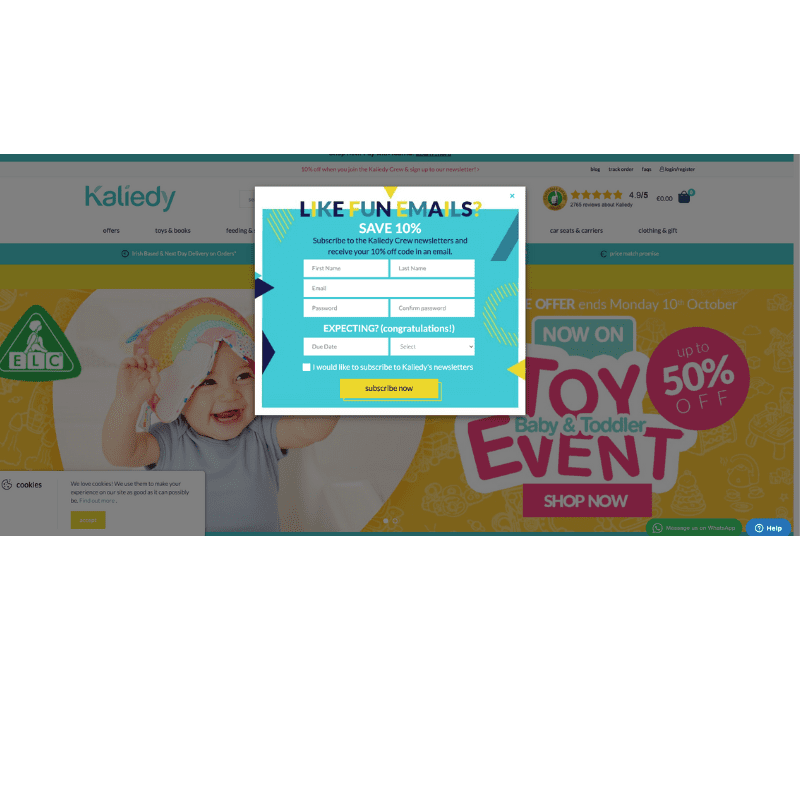 2. Create a newsletter list


Building a list can be a good idea to generate more organic clicks on your website. What does it require?Getting the email addresses of potential customers and letting them know about the following Black Friday deals.Below, you will see an example from one of Kooomo´s Irish customers,
Kaliedy,
who have implemented in a very catchy way:
Did you know that email personalization can lead to six times higher transaction rates and a 122% return on investment?
Therefore, you should personalise the newsletter content based on the subscriber´s needs. Moreover, personalization should be plain and simple, so that it addresses the recipient´s name in the email subject line. Email subject lines like this can have a 22% higher open rate than average.
3. Boost Your Social Media Presence
There is no secret that social media is a very powerful tool that can influence customers´
purchase decisions by 71%.
For eCommerce websites, it is also one of the few digital marketing platforms which allow audience engagement.
Find below a few tips to use for your Black Friday marketing social media campaigns:
Optimise social media accounts
Use a neat profile picture, followed by a branded cover.
Include keywords relevant to the business in the bio too and ensure that all the featured links work. Users can use them to find more Black Friday deals.
This purpose is most suited for selling items which generally provide a lot of online searches, such as clothing. Users will mostly use them to search for Black Friday deals.
This has the purpose of selling items which generally have many online searches, such as clothing and electronics.
Leverage the social shopping feature
Merchants can easily
connect their online stores
with platforms such as Instagram and Facebook, granting customers to buy directly from their feeds.
More targeted than search ads and result in higher conversion rates, with an
average of 9.21%.
Keep in mind to redirect users to an
optimised landing page
after they click on the ad.
4.Verify Product Pages


Customers will spend most of their time on the product pages looking for their desired items and purchasing. Hence, optimising product pages can ensure a quick and pleasant shopping experience. Use the checklist to improve the following topics:
Product descriptions: make use of sensory words to visualise how the item looks and feels to the end user.
Create a FAQ section to address buyers´ most searched questions.
Create gift guides: 27% of Black Friday shoppers check for gifts for holiday celebrations.
Group products based on the recipient, such as "gifts for him" or "home decor gifts".
Showcase user ratings and reviews: Customers rely on them to see if a product is worth being purchased or not. Our advice is to feature both positive and negative reviews, to appear less biassed.
5. Build a Holiday Calendar


Get ahead of your competition and surpass the hectic holiday season, by creating a calendar for your eCommerce strategy.
In this link
, you will find a list of
project timeline calendars
for you to use and mark your brainstorming ideas, by creating design and copy briefs, while launching your Black Friday campaigns.
6. Increase Black Friday Sales
Your customers will be keen to discover your products not only through the display of your selected discounts, but also by rushing them to the website. A good example is an entrepreneur Marcus Taylor, who implemented this marketing strategy, augmenting the sales on his website by 332%.
Are you wondering how to create urgency for Black Friday campaigns? See below several ways how to achieve this:
Conduct a flash sale: Create discounts and deals, with a short duration of time, generally between a few hours to one day.
Convince users to purchase your deals, emphasise the beginning and end times and display a countdown timer on the website.
For example, in the picture below you will see how Kaliedy implemented this eCommerce suggestion: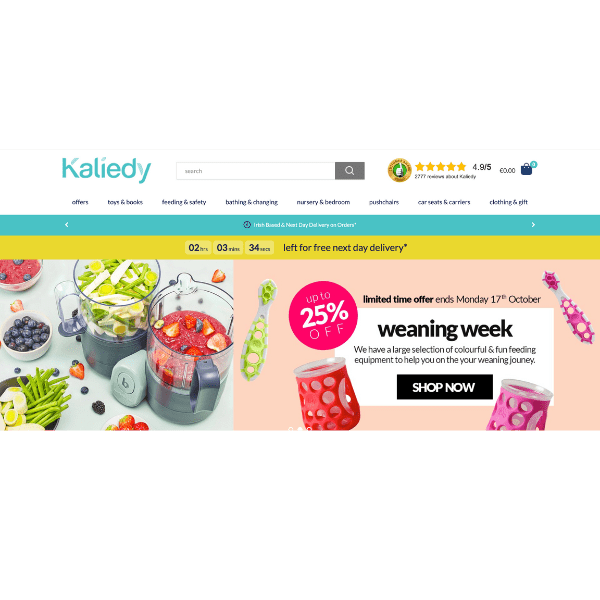 Adopt a language which shows time reference in its structure:

Keywords such as "now", "today only" or "last chance" are good showcases.
Use them in the marketing email subject lines, while boosting your open rate too.
Apply a colour which stands out and highlight your offerRed is always a catchy colour, although you can also choose a contrasting colour to contrast with the dominant shade of your web design.Provide rewards for the fastest customers, such as free shipping or a gift for the first couple of customers.Show information about how many customers have purchased the item on the product page, to induce a "fear" of missing out.
---

Posted by: kooomo