---
Launching a digital-first brand in a pandemic: Kaliedy and Kooomo

For
the first episode
of eMmerced: Presented by Kooomo, we sat down with Ben Ward, one of the former owners of Mothercare, to chat about his latest online venture. While many businesses closed their doors in 2020, Ben made the bold decision to go live with a new digital store – Kaliedy, Ireland's newest online-only nursery and toy store.
Not only was Kaliedy launched at the peak of uncertainty, but Ben also set out to tackle a major challenge for nursey and baby retailers – how do you overcome the 'see before you buy' consumer approach to shopping?
But before we delve into the story of how – let's shed some light on how Kaliedy came to be.


"Kaliedy is a nursery pure-play online retailer and is based proudly in Ireland – our warehouse 3PL partners are based out in North Dublin, close to the port and the airport which is handy from a logistics perspective."

Ben chats to use about how Kaliedy stocks a lot of Irish products with about 25% of their product portfolio being Irish made. Despite the fact that the Kaliedy team has yet to see the inside of an office, being small and homegrown combined with their expertise in the nursery landscape has made Kaliedy stand out from the competition.

But why choose Kooomo to get online?

"We're planning to expand outside of Ireland and Northern Ireland in the near future and certainly, what Kooomo is offering in terms of tax, currency and languages will be a big plus for us when we do. I have used different platforms in the past, for example, I used Magento for nearly 10 years and there are pros and cons to every platform.

With Kooomo and their project managers and developers – it is a collaborative approach and we're very happy with the system. It has great integrations with top tier partners as well as around logistics so yeah it's been a good experience so far."


Launching a business during COVID with a digital-only approach.

Launching a business at any time is not without its challenges, but Kaliedy has only known life in lockdown and has managed to thrive. With restrictions and many retailers being closed – Kaliedy was able to navigate certain roadblocks.

"Between the pandemic and Brexit, it's been a very difficult time for retailers."

Ben describes 2020 as a double-edged sword, while challenges from Covid19 and Brexit slowed progress – being Irish-based became a primary USP for Kaliedy.

"In the very first few weeks of January we had many difficulties due to the new changes to customs and duties – but that's also worked in our favour because customers are now asking questions like "where are you situated? Will there be extra fees or charges levied when the product arrives?". We're able to say, for the most part, that we are based in Ireland, that we can deliver the next day and no you won't have any additional charges when DPD arrive at your door."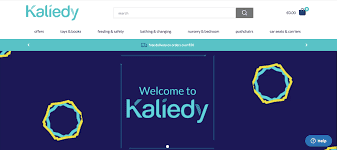 How Kaliedy approached the traditional 'try before you buy' consumer approach to shopping.

While currently, an online-only retailer Ben shares his desire to go omnichannel in the future because when it comes to items like buggies and prams, parents have a desire to test things out first-hand. But for now, Kaliedy has overcome this aspect of the consumer journey by asking all of the right questions.

"We have to try and come up with ways to counteract that lack of physical presence by having a very agile customer service portal, for example, we've got a Zendesk system integrated into our website. This funnels all of our customer service queries with WhatsApp messages included – which shoppers have been really positive about. People who have product or delivery queries are getting that immediate response which I think somewhat combats the lack of a store infrastructure."

But it's not just about customer service – injecting as much context as possible into their products has helped Kaliedy help parents overcome the barriers that the pandemic has created.

"We're working on our video assets and How-To's, to, for example, show people how you fit the car seat or how you put the buggy together. We've also got works in the pipelines around fit finders, where you can input information into the system, such as the size of your car, the make and model, the year of the car and we will suggest compatible car seats that work. There are numerous factors that go into your decision-making process and if we can provide an intelligent system whereby people can input information to try and find a product that matches their car or their lifestyle then that's certainly one way we're looking at trying to kind of combat the lack of physical presence."
Takeaways
Our chat with Kaliedy really exposed the ways a business can overcome the challenges of a pandemic by going "digital-first". Despite restrictions, Kaliedy maintains great communications with their customers and can rest assured that their "Next-Day Delivery" promise will always hold firm with our logistical support. Kooomo offers retailers the security of knowing that they are future-proofed – so whether they're switching from bricks and mortar to online, or growing internationally, the pain points that come with structural changes are managed with ease. However, this article just scratches the surface of our in-depth chat with Ben – watch the full conversation and learn more about these takeaways, as well as the role that content and social commerce have played in building the Kaliedy brand in such a short space of time.
You can watch eMmerced: Presented by Kooomo on-demand here.
---

Posted by: Lauren Cassidy