Saas Cloud platform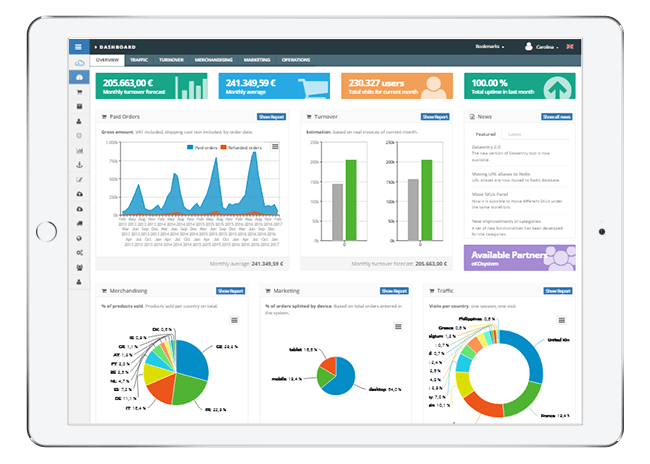 FASTER TIME TO MARKET
The cloud software allows quicker set-up time and no initial need for IT/backend development
NO LICENCE COSTS
Revenue share model reduces initial investment and allows brands to focus on global expansion
NO SERVER AND INFRASTRUCTURE COSTS
Kooomo is responsible for the availability, scalability and reliability of platform, which allows brands to focus the resources on other more on strategic issues
DIRECT CONTROL ON THE PLATFORM
The ease of use allows the brands to personally manage the platform without the internal need for dedicated IT resources
SOFTWARE UPGRADES EVERY 3 WEEKS
New releases and upgrades are seamlessly integrated into the platform every 3 weeks without disrupting the day-to-day operations
AGILITY
Simple and flexible usage of the platform and no need for IT dedicated resources, saving costs and valuable time
MULTIPLE ACCESS
The cloud model enables many users with different roles to connect simultaneously from multiple locations
Omnichannel & multichannel, POS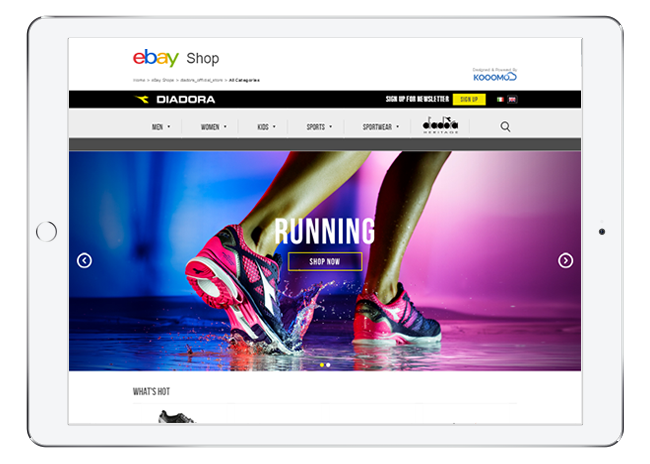 CONVERGENCE OF PHYSICAL AND DIGITAL STORES
Physical and digital convergence of stores into a single, unified platform
MULTICHANNEL MANAGEMENT
Multichannel integration of physical stores, marketplaces and online stores
BUY ONLINE – PICK UP/ RETURN IN STORE
Flexibility offered to the client to choose online and pay and collect in store, also with option to return the item in store
POS
Ability to track payment made by POS in store, integrated directly with the platform
ORDER ONLINE IN STORE
If the product is not available in the store the client can finish the purchase online with the help of mobile devices available in store and get the product delivered at home
RETAIL AND ECOMMERCE STOCK SYNCRONIZATION
The synchronization of the stock enables the brand to have a direct and full control of the inventory in both physical and digital channels regardless of warehouse location
Marketplace connector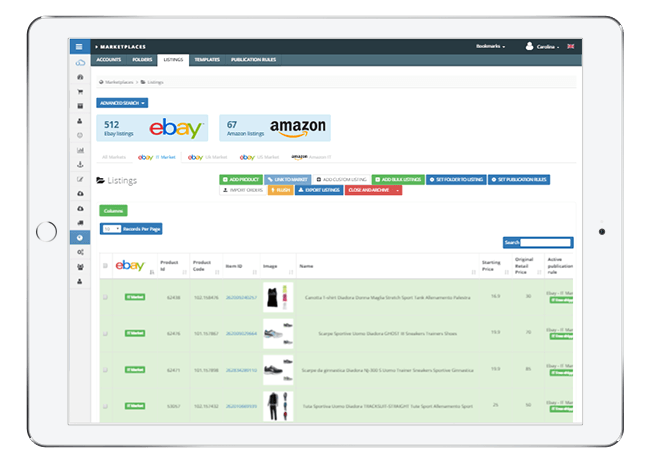 FULL INTEGRATION WITH MAIN MARKETPLACES
Possibility to easily list products on marketplaces directly through the platform with all information related to products, categories, prices
INVENTORY & STOCK SYNCRONIZATION
Full control and synchronization of the stock enabling sales on different channels using multiple warehouses
AUTOMATED ORDER MANAGEMENT AND MESSAGING INTEGRATION
Unique interface to manage orders and client requests from ecommerce and marketplaces like Amazon and eBay
SALE ON ALL AVAILABLE MARKETS WITH LOCAL CUSTOMIZATION
Centralized, simple and personalized management of listings on all eBay and Amazon markets
FLASHION EBAY MULTIBRAND STORE
Clients can take advantage of Kooomo's Flashion store with high ranking and metrics as a indirect sales channel
PROFESSIONAL EBAY STORE DESIGN
Professional store design on eBay
Content Management System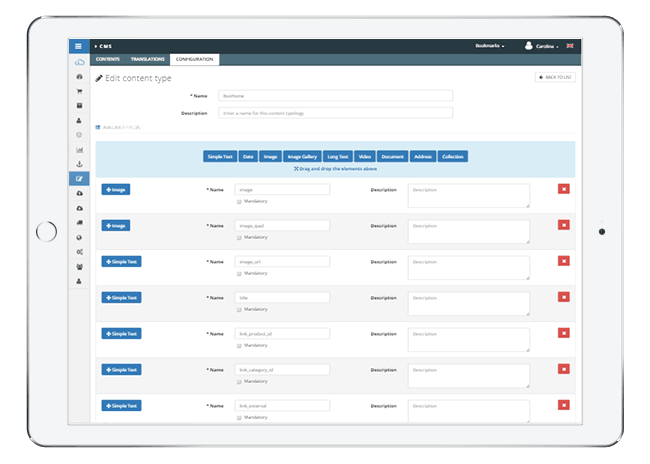 ABILITY TO ORGANIZE THE CONTENT BY SPECIFIC RULE
Possibility to customize the content shown depending on final customer location (i.e. different promotions for different countries, languages etc.)
EASY CONFIGURATION
Easily configurable content types and easy creation of new content
BLOG
Thanks to Kooomo's CMS it is now possible to build a blog integrated within the e-commerce website (information about the products, prices, images, etc)
ROLE USER
A specific role can be given to admin users to manage the content
CATEGORY BANNER
Personalized management of banners, headers, categories and promotional areas dedicated to the seasonal collections
IMPORT / EXPORT
Reduced implementation time with the import of files through the admin interface
Warehouse Management System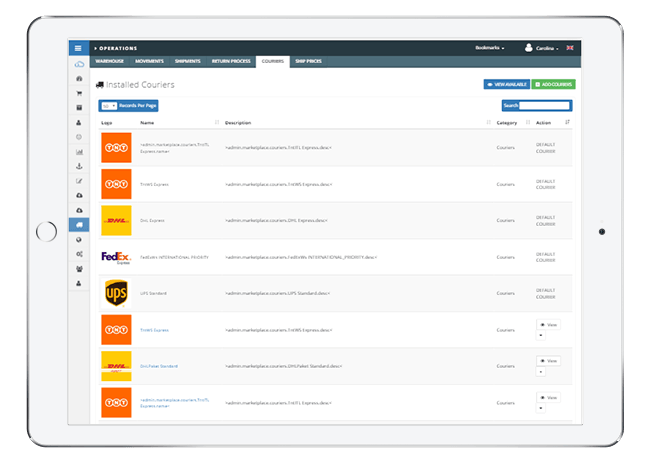 REDUCED RISK OF RUNNING OUT OF STOCK
Ability to avoid the risk of out of stock issues with the synchronization across all channels occurring every 15 minutes
CENTRALIZED INVENTORY MANAGEMENT
Unique interface from which to control stock throughout all the channels
MULTIPLE WAREHOUSE SYNCRONIZATION
Unique and centralized interface to manage multiple physical shops and websites allowing them to share the same inventory across multiple warehouses
SHIPPING COURIER ALGORYTM
Integration with all international couriers (DHL, BRT, FedEx, TNT, UPS, etc.). Depending on the clients needs, the system automatically assigns the optimum shipping method
INTERNATIONAL NETWORK OF WAREHOUSES
Clients can benefit from Kooomo's partnership with PVS, one of the world's largest logistic networks
DIRECT INTEGRATION WITH CLIENT WAREHOUSE
Kooomo platform can be easily integrated with different warehouse management systems. In the last 6 months, more than 150 store
Analytics and reporting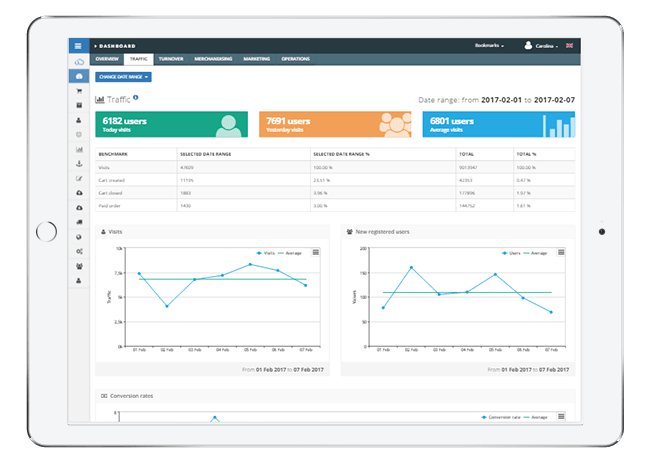 PERSONALIZED DASHBOARD
Possibility to manage data in order to create personalized report to view/ download in various formats (png, jpg, pdf, svg, csv) defined by date, location, currency, etc.
REVENUE REPORT
Sales reports per country, invoice reports, refund reports, etc.
PRODUCT REPORT
Merchandising report, products on sale, products sold out, most viewed products, most purchased products, etc.
ORDER REPORT
Order status report, refunded order, changed order report, etc.
STOCK REPORT
Low stock report, warehouse overview report, movements report, etc.
MARKETING REPORT
Keywords / search terms report, gross revenue per campaign, ROI per campaign, SEO and Newsletter returns report, etc.
CONVERSION RATE REPORT
Traffic & conversion rates reports per different countries
1 click integration
ADD 3RD PARTY APPLICATION TO ECOMMERCE IN 1 CLICK
Easy and quick integration of applications of 3rd parties to the ecommerce
REDUCED TOTAL COST OF OWNERSHIP
Reduced investment costs for the integration of 3rd party application thanks to Kooomo existing ecosystem of partners
NO DEVELOPMENT TIME NEEDED FOR 3rd PARTY INTEGRATION
Immediate availability of 3rd party applications for clients, saving cost and time
MAXIMISE THE ECOMMERCE POTENTIAL
Maximize the value of the digital commerce ecosystem
CONTINUOUSLY GROWING PARTNER NETWORK
Platform value is constantly growing through the continuous addition of new partners, exceeding the initial value
Product Information Management
INTUITIVE DATA IMPORT/ EXPORT
Product information can be easily created through an import system, enabling the brand to create products on ecommerce website quickly and efficiently
PRODUCT CUSTOMIZATION
Possibility to create a detailed product with multiple images, zoom-in feature, product keywords
YOU MAY ALSO LIKE
Suggested products selected based on client previous purchases
TRANSLATIONS OF CONTENT
Possibility to translate content in 6 different languages
CUSTOMIZABLE CATEGORIES
Possibility to create customized categories and product views (i.e. complete the look, etc.)
LOCALIZED PRICE OPTION
Ability to customize price and currency across different countries
PRODUCT REVIEW
Collection and management of feedback on products directly from the platform
Order Management System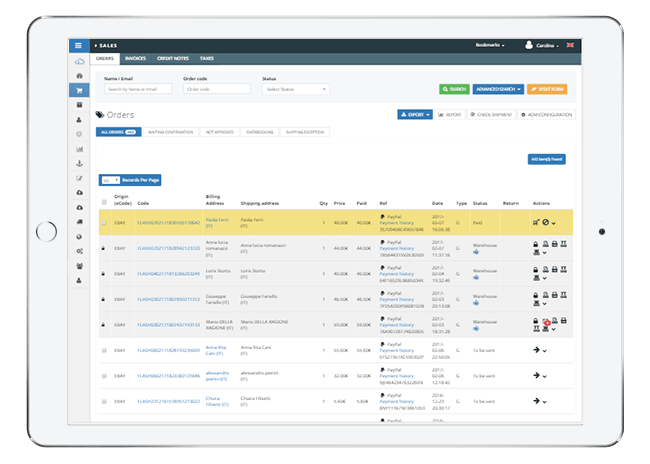 AUTOMATIC ORDER MANAGEMENT
The orders are processed automatically by the platform, with the possibility to create rules to customize the type of orders that need to be processed manually
INTUITIVE INTERFACE
Unique platform to easily manage the fulfilment of orders, trough the consolidation of order details, messages and all relevant documentation related to the order
REFUND, CHANGE & RETURN
The processes of refund, change and return are managed by the system including the automatic creation of customizable documentation (i.e. return form, invoices, etc.)
INTEGRATION WITH ALL SALES CHANNEL
Unified order dashboard to manage all the orders from different channels (ecommerce, marketplaces, etc.)
MESSAGING INTEGRATION
Messages and notifications related to the order are integrated and managed directly on the platform
DEVICE RECOGNITION
The platform can recognize the device from which the purchase has been made
CROSS BORDER DOCUMENTATION & SHIPPING LABELS
Automatic creation of all required international documentation related to the management and shipment of the order
Customer Experience, CRM and Payment
MESSAGING / TICKETING SYSTEM INTEGRATED
Easy and direct management of client requests directly from the platform
CUSTOMIZABLE EMAIL TEMPLATES
Possibility to configure email templates in 5 different languages EN, IT, DE, FR, ES
CUSTOMER SERVICE
Call support, localization / multi-Lingual support (it, en, de, fr, es, zh, ar, ja, pt, ru, sv, tr)
MARKETPLACES MESSAGING INTEGRATION
Unified management of messages coming from different channels
PAYMENT MANAGEMENT
Management of payment related aspects (PayPal, World pay, etc.)
FRAUD CHECK AND RISK SCORE
Accurate control on the credit card risk score
CRM
Historical order enquiries stored in our CRM module in back-office
INTEGRATED VAT SYSTEM
Automatic VAT calculation system for different countries
Promotions Management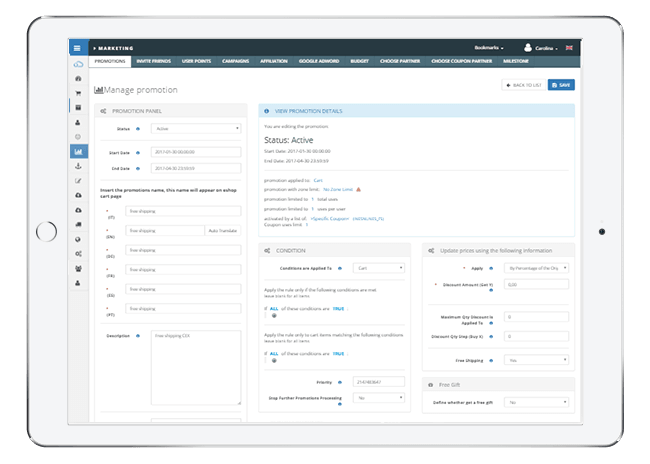 PROMOTIONS
Promotions can be configured per geographical area, per user, per user group, per product category, per cart. All types of promotions supported (i.e. percentage discount, number of item discount, fixed amount, free shipping, free products, etc.)
CUSTOMIZABLE CHECK OUT
Saved shopping carts with configurable expiration time, one page checkout, guest check out, option to create account at beginning of check-out, accept gift messages per order and per item
CHOOSE SHIPPING/PAYMENT
Flexibility for the clients to customize the purchase process
COUPON & GIFT CARD
Promotion by coupon / promo code with options for configuring usage limits
ABANDONED CART PROMOTION
Possibility to set up personalized promotion for clients that attempt to leave before completion of the purchase
WISHLIST
Add any products to a personalized wish list
Marketing, Newsletter, SEO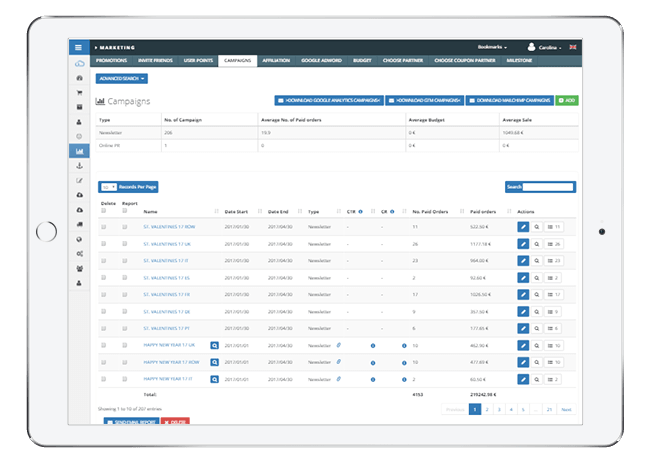 CAMPAIGN MANAGEMENT
Through the platform, it is possible to directly manage multiple marketing campaigns (e.g. AdWords, newsletters, banners) and the creation of personalised report
RETARGETING
Creation and technical implementation of retargeting ads on the most popular sites, socials and channels in order to maximize the brand exposure
EMAIL CAMPAIGN
Creation of targeted email with specific call to action and analysis of in-depth reporting data in order to optimize the performance of newsletter
STRATEGIC DIGITAL MARKETING CONSULTANCY
Kooomo has different partners who can help clients to get the most out of their marketing investments
SEO
Kooomo platform can manage directly SEO activities such as generating SEO URL Alias for: Products, Categories, CMS, Custom URL alias. Management of keyword per products and Meta tags per pages, categories, products.Auto-generated sitemap in XML and HTML