Benvenuto nella modalità di modifica CMS. Fare clic sul file dei contenuti desiderati e avviare la modifica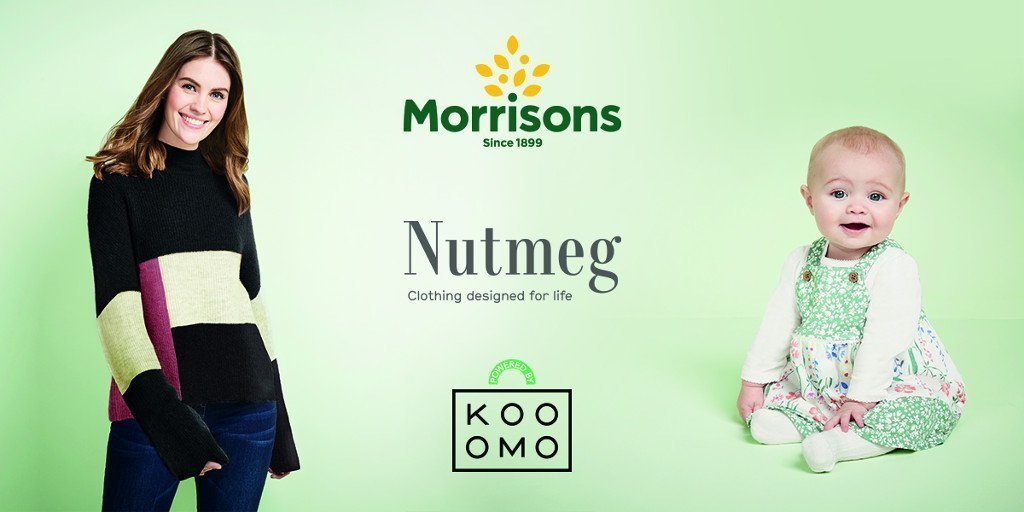 Morrisons to work with Kooomo to launch its flagship clothing Nutmeg brand online
PRESS RELEASE:

Kooomo, the omnichannel cloud commerce platform announces today it is working with supermarket chain Morrisons to launch its clothing brand Nutmeg online. The agreement will see Kooomo undertake management of Nutmeg's entire digital operations – providing both the platform and the consulting services to take care of operations: from e-store management and merchandising through to SEO and social media marketing.

The deal will enable customers to purchase Nutmeg clothing online, click and collect in-store and receive rewards online through the Morrisons loyalty programme. Launching in September, the site will feel like Nutmeg and Kooomo will provide the infrastructure so that customers can view and buy from the complete range.

Christine Bryce, Category Director for Nutmeg at Morrisons said: "We have served customers better by introducing Nutmeg womenswear into nearly 100 stores and extending our baby range to every Morrisons store. This agreement with Kooomo will enable us to offer our affordable, quality clothing - with real attention to detail - to more people."

The Kooomo platform was selected by Morrisons for its proven ability to rapidly scale, as well as the company's experience of working with fashion retailers. The ecommerce site will be available on all devices and will include rewards for Morrisons More card holders.

Ciaran Bollard, CEO at Kooomo said: "Taking a fashion brand online is an important step for any retailer, given that Fashion is dominating Click and Collect revenues of £10bn and growing at over 50% in the UK market. To be chosen by Nutmeg – Morrisons, top 20 UK fashion retailer to lead all elements of the strategy online, mobile and click and collect is particularly exciting given the growth of both brands. Despite the compelling business case, still only half of the top UK retailers have implemented Click and Collect. We look forward to driving market adoption and delivering increased sales through a seamless solution for customers to buy the popular Nutmeg clothing range anywhere, through any device and connecting all 491 stores."

About Kooomo:

Kooomo is an Enterprise Cloud Commerce Platform, selected as Gartner Cool Vendor 2016 and named in Gartner's Magic Quadrant 2017, with over 17 years' experience working with hundreds of international customers on every step of the digital commerce journey. The platform provides customers with the full stack of core features needed to manage an entire digital commerce business, including:


· Product Information Management

· Content Management

· Order Management

· Warehouse Management

· Customer Relationship Management


The Kooomo Marketplace Connector provides easy access to eBay and Amazon to manage and report on all sales channels through one login to the platform. With 1-click integration technology, Kooomo offers the flexibility to connect with best-in-class technologies and experts to grow and develop the business.


For more information, head to www.kooomo.com

About Morrisons:

Headquartered in Bradford since 1899, Morrisons is a British food retailer with more than 100,000 colleagues in 491 stores serving over 11 million customers every week.

We are British farming's biggest supermarket customer and all Morrisons-branded fresh meat and everything on our butchers' counters is 100% British.

Foodmakers and shopkeepers at heart, we have over 9,000 trained butchers, bakers, fishmongers, cheesemongers and other skilled in-store specialists making more and more food in our stores.

Morrisons has its own sites making meat, fruit & veg, fish, bakery and fresh food products – 17 in all – and is unique in preparing and making more than half of the fresh food sold in our stores. Food manufactured in our sites and stores is showcased with 'Morrisons Makes It' branding.

Morrisons is becoming even more competitive by cutting prices on groceries and continuing to offer great value on good quality products. We tailor the offer of each one of our stores to local tastes and demographics.

We also offer popular services including cafés, pharmacies, dry cleaners and over 300 petrol stations with further services being added all the time.

About Kooomo:

Kooomo works with clients to maximise all digital sales channels globally by combining our expertise and next-generation platform in a proven and affordable digital commerce cloud solution. Built by eCommerce managers and named in Gartner's Magic Quadrant, Kooomo's platform brings together every piece of the digital commerce puzzle. With a flexible revenue-share model, we're all driven to succeed. Our extensive partner ecosystem, with world class technologies, ensures businesses are future proofed to keep up with the evolving digital commerce landscape.

If you'd like to learn more, check out www.kooomo.com


About Nutmeg:

Morrisons launched Nutmeg, its first ever own brand clothing range, in March 2013. Since then the business has grown and Nutmeg childrenswear now has a presence in all Morrisons stores nationwide.

Nutmeg's Women's Collection launched February 2017 is now in selected Morrisons supermarkets. A list of stores that carry the range is available here. The Women's range has been inspired and led by customers who said they wanted to see a collection with the same quality and attention to detail as the children's ranges – clothes that are fashionable, easy to wear and ready for whatever the day may bring.