---
Stories of Resilient Companies – Interview with Enzo Fusco, President and founder of FGF Industry (Blauer USA) and Giuseppe D'Amore, CEO of FGFIndustry

"It will be a tough year for everyone – everyone is fighting Coronavirus in one way or another. But we cannot give up and we must go back to work. We're responsible for many jobs and now is the time to put sensible plans in place. Although we now forecast a 50% decline in sales in 2020, the company remains in a healthy position. However, we imagine it will take about two years to get back on track. "
This is how
Enzo Fusco,
president of
Fgf Industry
, envisions the present and future for the group that holds Blauer Usa. Along with
Blauer USA
, the portfolio for the fashion holding company includes labels such as Ten C , Prince Tees , Bpd and the new born B + Plus , which boasted a turnover of over €60 million, including licenses that are worth €9 million and an EBITDA reaching 20% in 2019.
"The group immediately adopted all the sanitary measures to guarantee safe working conditions back in mid-February – from temperature detection to the weekly sanitisation of rooms, to smart working with a reduced presence in the office. This was in place until March 24, when the decree that closed industrial activities was released – after that, we had all staff working remotely. As a fashion retailer, facing up to the reality of the situation was tough – the closing of shops, not only in Italy but also abroad is a very critical situation, " according to Giuseppe D'Amore , CEO of FGF Industry.
Fusco reports that the company has implemented economic support plans at all levels, from suppliers to the points of sale. In fact, it has moved all summer payments between July, August and September, compared to the usual April, May and June, and will take on 25-30% of goods not collected by customers, which will remain in the warehouse. They will also evaluate, on a case by case basis, any discounts, changes of goods or returns to meet the needs of the consumer.
Blauer USA also has an
eCommerce presence
, which has seen continuous growth of more than 30% year on year over the past three years. During the forced lockdown – Giuseppe reports that "Blauer's online shop never stopped – the work in logistics was streamlined and we optimised the preparation and delivery of orders in 2 business days instead of 5."
"Needless to say, the effects of the first lockdown were reflected in sales. Understandable, given all of us were affected by uncertainty and having to face a new routine working from home. Online purchases gravitated towards necessities or pharmaceuticals, certainly not outerwear that cannot be worn to go out. Consequently, we had to readjust the messaging on our social networks and in our advertising campaigns to focus on product categories that could be useful for daily life at home. We also introduced some discounts to help keep stock moving – free shipping was offered too, like most brands. All this allowed us to close the month of March almost on par with last year. "

What we are experiencing is undoubtedly a time of future uncertainty. However, Enzo Fusco believes it will shine a light on how the entire supply chain is reacting to the situation.

"In March, we saw very little sales in Italy, while abroad we managed to maintain them to a certain degree. I know that the stores in Austria have just reopened and hopefully Germany, where we work very well, will be ready from next week. Talking to foreign importers and agents, I see that they are all more optimistic than we are. Fortunately, 50% of our winter sales went abroad, so we are focusing heavily on exports ."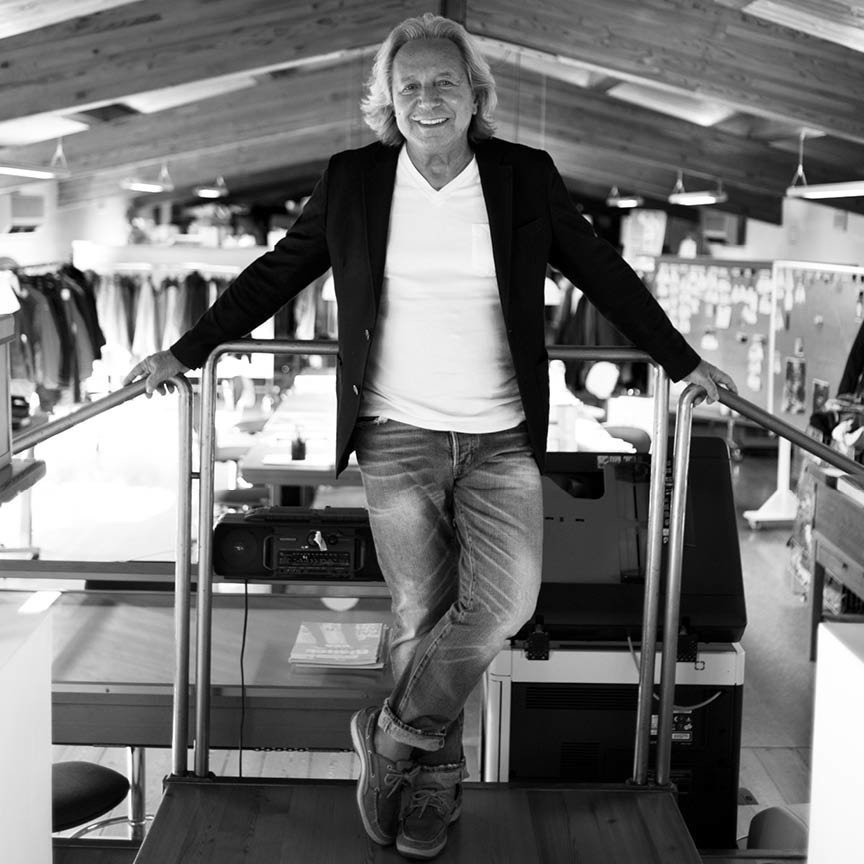 Giuseppe adds that "the future will certainly be more digital, but not so much for the online shop as for the B2B relationship. A different way to present the next collection is already being considered, given that all the fashion shows have been cancelled or postponed.
#strongertogether is Blauer's motto during this period – we believe we will overcome this in the best possible way – by being united, teaming together, acting with resilience and effectively communicating with all internal and external stakeholders of the company. This has been helped massively by the use of video conferencing programs such as Zoom."
To support all the people who work in the company, Enzo Fusco has also taken out an insurance policy with UnipolSai that protects employees in case they contract the virus. As a gesture of solidarity, they also produced a brand mascot, Teddy Blauer, who is
on sale on the online store
– the proceeds of which will be donated to the activities of the Department of Civil Protection.
Teddy Blauer is a true ambassador – a superhero bear dressed as an American policeman who, with his blue uniform and a big badge is always on the front line and ready to help people in need. For this joint initiative, the bear will be joined by the policeman, pilot, Moto GP test driver and Italian Superbike champion
Michele Pirro
. Through his social and brand profiles, the pilot keeps followers updated via video on the sales trend of Teddy Blauer.
Enzo Fusco, was one of the advocates for
# L'ITALIASIAMONOI,
a project curated by
Vanity Fair Italia
, for which the April issue called for Nobel prize winners, philosophers, managing directors, presidents of the most important Italian supply chains, poets, artists, stylists and analysts of future scenarios to get together and write about the days to come.
See you next story! Stay tuned
Jennifer Puzzo, Head of Client Service of Italy
---

Pubblicato da: kooomo