---
How to audit your SEO campaign in 8 ways

3. How to place keywords

To avoid stuffing your page with target keywords, you should combine them through your page to tell Google what keywords you are aiming to rank for.

Therefore, you will need to include some keywords in the URL, in Meta title and description and in the alt image, to establish that your webpage is relevant for your target keywords.

Did you know that
33% of global eCommerce traffic
is coming from organic searches?
This shows that SEO is still a mandatory part of an eCommerce business and you can always do more to improve the ranking of your website. Even if there are some SEO factors which are not fully your direct responsibility, you still can plan to improve the SEO health of your eCommerce website.
In today's blog post, we will detail eight tips on how to improve the status of your website in terms of SEO by showing you why it is important to optimise your website for Google's algorithm in the next months.
1. Canonical tags for pageviews with filtered options

The majority of the eCommerce websites give you the option to filter the type of products established by different divisions, colours, fit and size.

In case your website generates a large number of pages that contain filtered pages, we recommend that you use canonical tags so that you avoid using canonical tags.

What is duplicate content?

To have a ranking website, you should avoid duplicate content.

For SEO, having two similar pages means that Google cannot correctly crawl your pages.

Duplicate content is not letting Google crawl your pages in a correct way since the similar page will run for the top ones in SERP.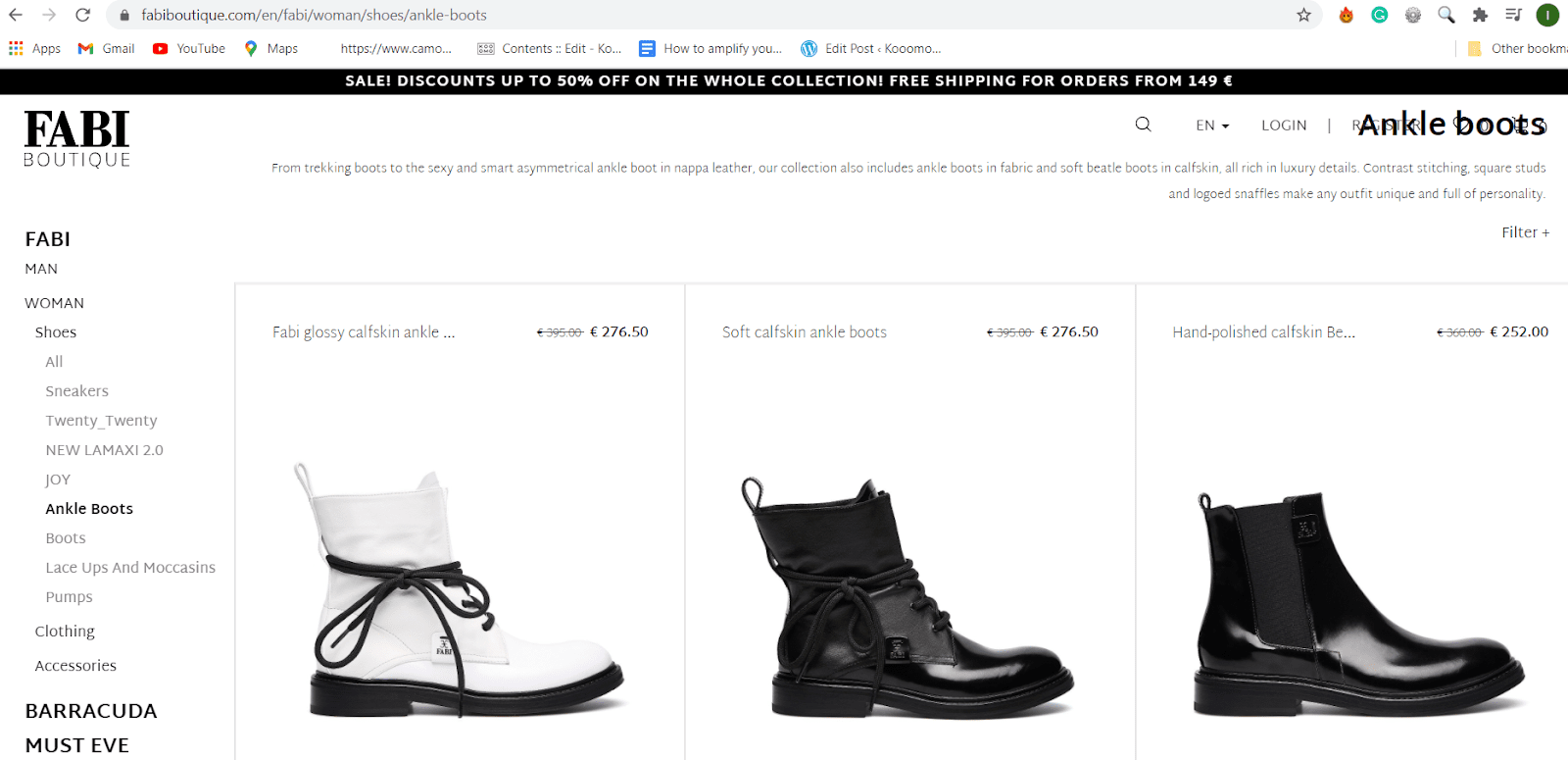 In the image above, you can see the website Fabi Shoes, which has filtered options. When filtering based on shoes, you can observe that the URL has ''/ankle-boots'' in the termination of the structure.

In this case, you should establish canonical tags on filtered pages, by telling Google which page should be the main one to be crawled.
2. Create a meta description for each page

In SEO, you should always use unique meta descriptions, as shown above, duplication is a serious problem.

Creating a consistent and unique meta description can increase the chances that people click your links.

As click-through-rate (CTR) is a critical ranking factor in Google SERP, you will be risking your chances for the search ranking in case you fail to optimize the meta description of your page.
4. Breadcrumbs
Breadcrumbs are SEO indicators for users who are visiting your shop, which help you organise it in a structured way.
Additionally, breadcrumbs help Google crawlers to read your page better, which can aid you with your page rank as well.
Moreover, breadcrumbs will be shown in the search results instead of your webpage's permalink, suggesting that Google is utilizing breadcrumbs for SEO.
It is advisable not to overcomplicate things in case you are implementing breadcrumb navigation. It is better to follow
the best practice
, for example, to use breadcrumbs only when it makes sense and makes them progress from highest to lowest.
6. Add reviews on product pages
A study made by CXL states that review stars can improve CTR
by 35%.
By implementing
product reviews
, your customers will have access to your website and guide them into deciding on the best options for their needs.
Moreover, your page will show a star rating in Google Search Results Page, an action that will help your result to make a difference in Google SEP and also improve your click-through rate.
You can discover more details
here
on how to improve your website's structure and maximise the chances of your website to show review snippets in Google Search Results Page.
7. Site speed optimisation
Website speed optimisation
is mandatory in SEO.
Now more than ever, it's more important than ever to optimise the page speed on your website. Google has confirmed that the loading speed of a page will eventually be a ranking factor in the next months.
A study from Moovwen shows that
87% of eCommerce websites
do not have the standard requirements from Google.
However, you can use this to your advantage and get ahead of your competitors.
Tips for improving your page speed:
Acquire a more proficient hosting service
Apply lazy loading for your image to load as visitors scroll down
Take off heavy elements on your page
By using
PageSpeed Insights
from Google, you can fix whatever elements from your page are slowing it down.
Want to know more about advice on optimising your page speed? Follow
this link.
8. How to get informational content on your eCommerce website
Lastly, it's recommendable to
create blog posts using keywords
that your users are searching for.
Why blogging for your eCommerce website is important for your business:
Provide helpful content and create trust with your audience
Make your brand an expert in your domain
Boost the ranking on Google SERP with relevant and qualitative content on your blog
A blog post that you publish today won't bring a significant result by tomorrow. But it is also an asset which will help your eCommerce website to produce more direct traffic and build trust with your clients from your business in the long run.
A blog post that you publish today won't bring a significant result by tomorrow. But it is also an asset which will help your eCommerce website to produce more direct traffic and build trust with your clients from your business in the long run.
Conclusion:

There is no doubt that enhancing the SEO for your website is not always an easy task. So start-with the pages that are bringing the biggest amount of traffic and sales.

Note that SEO is a long-term process and at the end of this process, you will be proud that you put an extra effort into optimising your website.
---

Pubblicato da: Irina Ciutaco