---
6 Digital Commerce Stats That Irish Retailers NEED to Take Note of to Succeed in 2019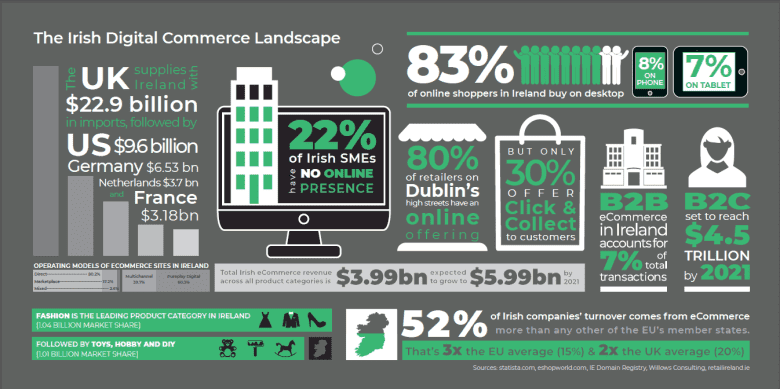 The digital commerce landscape in Ireland is evolving rapidly. While Irish retailers face many of the same challenges as their UK counterparts (take
bricks versus clicks
, for example), the statistics are showing that there is a huge opportunity for Irish businesses to attract, win, and keep customers through digital transformation.
If you're working on building out your digital commerce strategy for next year, let the stats in this infographic that we've put together be your guide to identifying potential gaps in the market. That way, you can decide what opportunities you want to go after to stay ahead of the competition and make your mark on digital commerce in 2019!
#1: 22% of Irish SMEs have no online presence – Source: IE Domain Registry (IEDR)
Despite the fact that consumer behaviour is changing rapidly and the appetite for an omnichannel experience grows, 22% of Irish SMEs still don't have an online presence. The reasons cited for this range from there not being a need to have a web presence in their industry, to a simple matter of not having time to embrace digital. Our two cents? Whether you're selling physical products online or not, the fact remains that all businesses have something to sell – that is themselves. If you don't have a web presence to (at the very least) highlight your contact details and boost your brand awareness, you're missing a huge opportunity.
#2: 83% of online shoppers in Ireland buy on desktop, 8% on phone, 7% on tablet (Source)
Figures from 2015 showed that the clear majority of shoppers in Ireland choose to make purchases via desktop. However, there has been a near
50% increase
in the 12 months between 2016 and 2017 using their mobile phones to browse online. So as much as the customer may prefer to finish their journey on desktop, they'll never get there if you don't have your online store optimised for phone and tablets!
#3: 80% of retailers on Dublin's high streets have an online offering, but only 30% offer click and collect (Source)
You would think that you could walk into nearly any store on Dublin's high-streets and have the option to collect an order that you've placed online, right? WRONG! Only 30% of Dublin high-street retailers have implemented click and collect as an option to their customers. This is huge, considering the fact that omnichannel shoppers have a
30% higher lifetime value
than those who shop using only one channel, and 15-20% of customers who pick up online orders also buy additional items in-store.
#4: B2B eCommerce in Ireland accounts for 7% of total transactions (Source)
While B2C digital commerce revenue is set to reach $4.5 trillion by 2021, B2B is on the rise. Technology has enabled B2B businesses to embrace digital commerce by giving potential customers a B2C type of experience online.
#5: Fashion is the leading product category in Ireland, followed by toys, hobby and DIY (Source)
Fashion is on top and showing no signs of being overtaken as the most popular product category in digital commerce, with toys, hobby, and DIY expected to have a combined worth of $1.36 billion by 2022. So if you're in fashion, the time is now to make sure you're competing with the top players in the space by developing a beautiful UX as well as leveraging personalisation to optimise conversions.
#6: 52% of Irish companies' turnover comes from eCommerce – more than any of the other EU member states
Ireland is leading the pack in terms of digital commerce sales, pulling in three times the EU average and twice the UK average in online sales. So, although 22% of Irish SMEs don't have an online presence, Ireland is still ahead of the curve as more customers spend online. It will be interesting to see how those figures change over time, with proposals for EU Digital Tax, Geo-blocking, and Amazon Tax all hitting the headlines over the past 12 months. Will Ireland remain a leader in digital commerce? Only time will tell.
Do some of these statistics represent your own digital commerce challenges as you start to plan out your strategy and goals for 2019? From our 18+ years' experience working in the eCommerce industry, developing a
digital commerce platform
, and collaborating with brands across multiple verticals, we find that the single greatest challenge for businesses, Irish or otherwise, is figuring out how to fit all of the digital commerce pieces together. So we put together an E-Book with some of our technology and agency partners across the categories of UX, personalisation, payments, and deliveries to share their insights into optimising every step of the customer journey.
Want to start solving the digital commerce puzzle? Download the E-Book now!
---

Pubblicato da: Michelle McSweeney